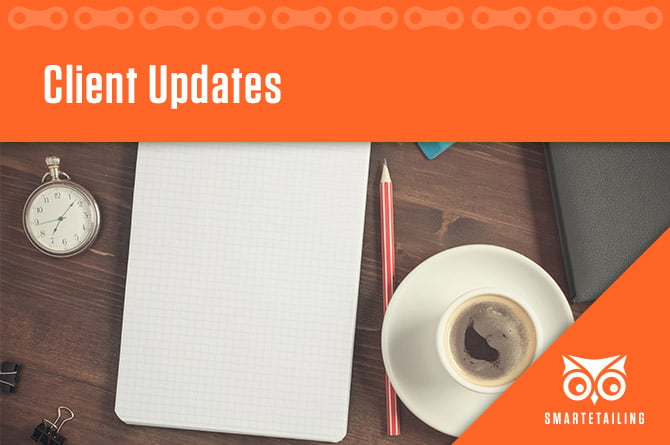 Read the latest updates from all the teams and departments at SmartEtailing. Each month our team is working tirelessly to get your website and tools working as efficiently for you as possible.
Development Updates
Buy Local Now website
We've enhanced our Buy Local Now service with a new product discovery platform for consumers, making it easier for cyclists to buy from your local bike shop. Consumers are able to visit
buylocalnow.com
to browse the web's largest selection of name brand cycling products, and when they are ready to buy, they are referred to your website to purchase.
Starting in 2020, SmartEtailing will begin allocating 1% of website subscription revenue to advertising Buy Local Now to consumers. We are making this investment to grow your sales without increasing your costs. Please read our recent
blog post
for a more complete explanation.
Marketing Updates
Improve your chances of getting found online
When consumers search online, Google wants to give them relevant results. Typically, that means they show local retailers in the search results. Personalizing your store location page with local, relevant information is a simple way to help yourself. Not sure where to start? We can help! Check out our new SEO package that is available to any SmartEtailing website customer.
E-commerce Playbook: Holiday Edition
Have you noticed all the Christmas decorations and gift ideas that are infiltrating all retail stores? At your bike shop, are you doing the same? Gathering the things that you think are good stocking stuffers, ordering the kids bikes and the hybrids, putting the products you want them to notice right up front? And are you promoting these same things on your website? Our
holiday playbook
has some great ideas to get you prepared for the holiday shopping season.
Send direct mail to your customers + prospects
Want to see a lift in your sales numbers or an increase in foot traffic? Consider doing a direct mail campaign with us! Our team of experts can help you craft the perfect message and compelling offer that will help you close out the year strong. Not only does a mailer help drive store traffic, they can also be effective in driving traffic to your website.
Click here to learn more!
Website redesign in time for the shopping season
If you've been thinking that your website could use an update, now is the time! We are able to get changes made to your site and it won't break the bank.
Complete this form
and we will contact you to discuss what your ideal vision is for your website and help make it become a reality before the holiday selling season.
Client Services Updates
Make this holiday season your best one yet
Your website may be the first place a consumer shops or browses with you. Give them reasons to come in and buy from you. Better yet, let them buy it online from you. If you have not yet activated your cart, we can help. Please complete this form and we will reach out to help activate your online shopping cart for click + collect, and if available at your subscription level, for shipping, too.
Tips for processing online orders
Not every online order will be easy. Some may require you to order something from your supplier. Some orders may come in overnight for pickup the following day. Occasionally, an order may be fraudulent, so you have to be vigilant in order review. Just like in your store, you need to be mindful of ways to make your customer happy, turning them into a customer for life.
Chat with us!
Did you know we now have a live chat feature? Chat with us between 8:30 and 4:30 MT for answers to your support questions!
Content Updates
Free marketing content
New marketing content is always in the works. Recently, we've added the following new content to the marketing Library.
Need help installing new content? Reach out to our support team for assistance.
Brands with recent additions to the catalog
Our team of content experts are constantly adding new catalog items to the SmartEtailing Library. In the last 30 days, we have entered new content from the following brands and more:
45NRTH
Bontrager
Club Ride
Giant
Head
Juliana
Liv
Louis Garneau
Momentum
Park Tool
Retrospec
Rossignol

Salsa
Santa Cruz
Shimano
Specialized
Specialized Turbo
Supacaz
Surly
Trek
Volkl
Wahoo
Whisky Parts Co.
Stay current with newly available and upcoming brands on the home page Update Center in the Site Manager of your SmartEtailing website.