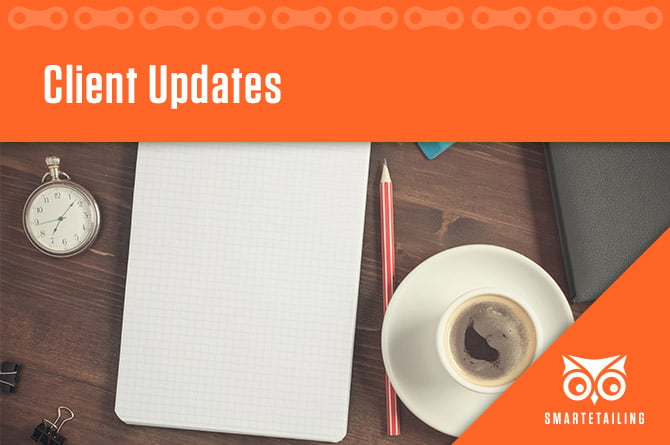 Read the latest updates from all the teams and departments at SmartEtailing. Each month our team is working tirelessly to get your website and tools working as efficiently for you as possible.
Limiting fraud on your website
Online sales went through the roof for most bike shop retailers over the last few months. Along with more online orders, comes more potential for fraud. Be sure to check our 'Fraud Alerts' at the top of your open order screen for trends we are seeing. For all orders you receive, do your due-diligence. Here are our
Tips for Limiting Fraud
.
For our retailers using
SmartEtailing Payments
we are seeing a fraud rate of less than .5% of all incoming orders. That, in combination with reviewing incoming orders for potential fraud can help provide you the best protection (and best profit margin).
Contactless commerce
Don't forget to verify that your SmartEtailing website is configured to process orders for local home delivery and curbside pickup. Shoppers are able to select these options at checkout and you'll get order notifications straight to your inbox. You can increase your sales by offering these ecommerce solutions.
Your shopping cart is key
Sales on the SmartEtailing platform continues to grow for each bike shop that has their shopping cart turned on. In June, the average SmartEtailing client's online sales were up YOY by over 1,000%. Of these orders, 66.3% were for in-store pickup. Participate in this growth by turning on your shopping cart!
Quick Take and How To videos
Check out our YouTube channel for new videos about how to work on your SmartEtailing website and explanations of our website features. Stay tuned for more and feel free to reach out if you have a topic that you'd like us to cover!
Here are some highlights:
Quick Take: How to customize your bike shop website
Quick Take: Supplier Sync and Fulfillment
Development Updates
Inigo website template
We recently rolled out a new website template named Inigo. Our objective was to create a clean and modern experience without sacrificing usability when we designed Inigo, the seventh responsive template available for all SmartEtailing retailers. Check it out by going to the Template Publisher within your SmartEtailing website. To learn more about the template please read our recent blog post or to learn how to update your template visit this Help Center article.
PayPal Financing now available
Giving online customers access to credit not only gives them more purchasing power, but also drives sales and increases purchase value. PayPal Financing is now available for United States SmartEtailing websites.
When fully enabled, your website will show consumers that you offer online financing through PayPal. According to PayPal, promoting financing during the shopping process can increase your PayPal transaction size by 214%. Learn more about this enhancement in our recent blog post.
Marketing Updates
Bike essentials for your ride email package
Bikes have been flying off the racks, but did your customers get all of the gear that they need? Follow up with a series of helpful emails and suggest recommended add-ons. Get started with our premium email package for $660.
Includes:
5 premium marketing emails
Each email includes a main graphic, support copy, 4 support graphics, and links
Email setup is included
Learn more or contact lauren.w@smartetailing.com to get started.
Drive traffic with a direct mail campaign
On average, 64% of people who receive a direct mailer visit the associated website, and 47% visit the store. Drive meaningful traffic by sending a direct mail piece. Choose from one of our prepared designs or create a custom mailer at no extra charge. Volume discounts apply and companion email programs are available. Get started for as little as $1,000 by contacting mark.s@smartetailing.com to learn more.
Content Updates
Free marketing content
New marketing content is always in the works. Recently, we've added the following new content to the marketing Library.
Need help installing new content? Reach out to our Client Success team for assistance.
Brands with recent additions to the catalog
Our team of content experts are constantly adding new catalog items to the SmartEtailing Library. In the last 30 days, we have entered new content from the following brands and more:
100%
6D Helmets
ABUS
All-City
Animal
Apidura
BSD
Blackburn
Bontrager
Briko
Burley
CULT
CatEye
Challenge Tires
Charge Bikes
Ciari
Cinema BMX
Dakine
Deity Components
Devinci
Eastern Bikes
Eclat
Elite
Ergon
Fabric
Fuse
Gaerne
Garmin
Giant
Giro
Honey Stinger
Juliana
Kenda
Kink
Knog
Lezyne
Limar
MSW
Marin
Maxxis
Mission BMX
Mosaic Cycles
Nirve
NiteRider
Norco
Oakley

Odyssey
Ortlieb
Planet Bike
Po Campo
Pro-tec
Prologo
Promax
QuietKat
Race Face
Robert Axle Project
RockShox
Rokform
SDG
SE Bikes
SRAM
Salsa
Salt Plus
Santa Cruz
Selle Italia
Serfas
Showers Pass
Specialized
Specialized S-Works
Specialized Turbo
Store-Branded
Sunlite
Surly
Tern
TerraTrike
Terry
The Shadow Conspiracy
Thule
Tioga
Topeak
Trek
TruVativ
Tubolito
Vee Tire Co.
Velo
Vittoria
WeThePeople
Wheels Manufacturing Inc.
Whisky Parts Co.
Yokozuna
Zipp
iSSi
Stay current with newly available and upcoming brands on the home page Update Center in the Site Manager of your SmartEtailing website.