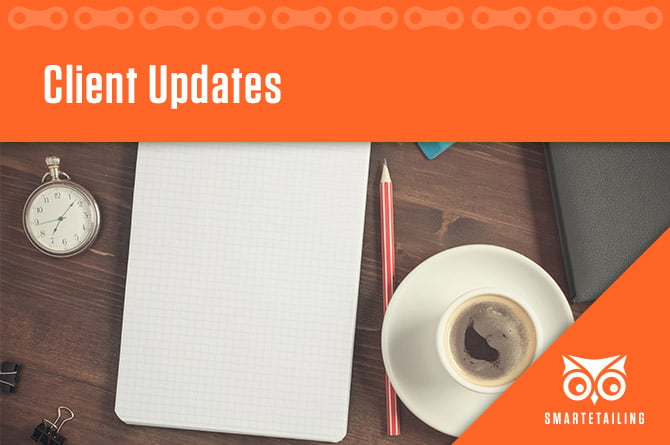 Read the latest updates from all the teams and departments at SmartEtailing. Each month our team is working tirelessly to get your website and tools working as efficiently for you as possible.
Click + Collect will grow your business
Here at SmartEtailing we have been steadily following the buy online, pickup in-store shopping trend and have adapted our platform to better function for click + collect shopping. We are excited to share a few numbers that illustrate the success of SmartEtailing retailers that are using the buy online, pickup in-store functionality of their website. Click + collect orders in 2019 accounted for over 40,000 orders and $16.6 million in sales across the SmartEtailing platform. What are you waiting for? Is your website set up to accept click + collect orders? Contact us to verify your settings.
Don't spend your summer getting ready for winter
You're already placing your snow sports pre-season orders. We're already planning our 2020 snow sports online catalog. Let's work together to make sure you can show all the products you'll have in your store.
Last season, we went deep with our hard goods catalog items from top brands. This season, we will broaden our brand and category mix based on your invested inventory. Let us know the product you have committed to for next season to help us build the best catalog possible. Learn more by completing this form and check out some of the content that you'll have access to!
Do you know about our Local website package?
If you're not on one of most popular packages you may be working harder than you need to. Show all your in store inventory for as low as $249 per month. Complete this form to learn more or contact Support for more information.
Marketing Updates
Turn browsers into buyers with a few ecommerce tips
Creating a positive user experience on your website has many benefits, both to you and your potential customers. You'll see improved conversion rates and decreased bounce rates with a well-designed website. Your customers will easily find the cycling goods that they want, and they'll return to your site or your store if they have a satisfying shopping experience. Are you doing all the right things on your website? Read our latest blog post to learn how to turn browsers into buyers.
Maintenance package now available
A well-maintained website leads to more traffic and more traffic leads to more sales. SmartEtailing retailers on our Maintenance package saw 78% sales growth YOY. It literally pays to maintain your website. Invest $125/mo and watch your sales grow. Learn more here or contact us to get started.
Customize your website to reflect your brand
Like your physical location buildout, giving attention to your website layout, merchandising, and branding can dramatically improve your customer experience, starting with a positive first impression and moving through an easy, enjoyable path to purchase. Build an exceptional user experience that effectively leverages your product catalog while helping you stand out in your market. Learn more today!
Content Updates
Free marketing content
New marketing content is always in the works. Recently, we've added the following new content to the marketing Library.
Need help installing new content? Reach out to our support team for assistance.
Brands with recent additions to the catalog
Our team of content experts are constantly adding new catalog items to the SmartEtailing Library. In the last 30 days, we have entered new content from the following brands and more:
All-City
Assos
Batch Bikes
Bell
Bianchi
Bontrager
Diamondback
Eastern Bikes
Felt Bicycles
Fitbikeco
Fox Racing
Fox Racing Shox
Free Agent
Gazelle Bikes
Giant
iSSi
Jamis
KHS
Liv
MICHELIN
Masi
Norco
Opus
Ortlieb
Park Tool
Pinarello

Planet Bike
Radio
Raleigh
RockShox
RockyMounts
Rolf Prima
Salsa
Santa Cruz
Schwalbe
Seven Cycles
Shimano
Specialized
Specialized S-Works
Stolen
Sugoi
Surly
Swiftwick
Tern
Trek
WTB
WeThePeople
Wheels Manufacturing Inc.
Whisky Parts Co.
XLAB
Yamaha


Stay current with newly available and upcoming brands on the home page Update Center in the Site Manager of your SmartEtailing website.