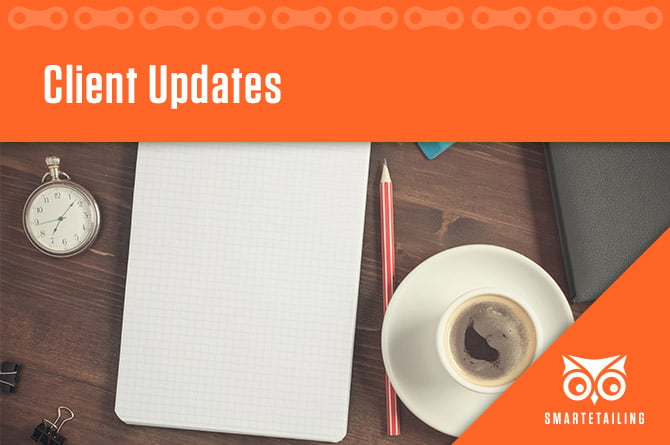 Read the latest updates from all the teams and departments at SmartEtailing. Each month our team is working tirelessly to get your website and tools working as efficiently for you as possible.
ADA Compliance
As you work on your website, ADA is always something you need to be aware of. Simple things can make a big difference to your site visitors, and things like alternative text are also helpful for search engine optimization.
Read this blog post
for more tips on ADA compliance or check out
our newest blog post
for how ADA applies to your website.
Limiting fraud on your website
Online sales went through the roof for most bike shop retailers over the last few months. Along with more online orders, comes more potential for fraud. Be sure to check our 'Fraud Alerts' at the top of your open order screen for trends we are seeing. For all orders you receive, do your due-diligence. Here are our Tips for Limiting Fraud. Reviewing incoming orders for potential fraud can help provide you the best protection (and best profit margin).
Orders for in-store pick up should always be carefully reviewed. Ask for the customer's ID and card to confirm the last 4 digits. Picking up a bike? Get their picture using #newbikeday as your reason. If they don't have the card or ID, do not give them the ordered products.
Prepare your website for the holidays
It may be hard to believe that the holiday season is around the corner, but it will be here before we know it. Now is the perfect time to get your website ready for the holiday season. Check out our 2020 Holiday Playbook for the tips & tricks to prepare your website.
Snow sports catalog
One thing is for certain during these uncertain times - winter is coming! And while this winter season may look different than ever before, we know that the need for people to stay active outside the house means great news for snow sports retailers. Get started with our snow sports catalog today!
Development Updates
Janet website template
Our newest template, Janet, is a refresh of one of our original responsive templates, Cindy. This update includes an improved mobile menu as well as a cleaner header layout that allows you to display key business information in a user-friendly way.
Other enhancements to the dividers, service menu, and catalog pages give Janet a more modern and cohesive appearance.
Ready to upgrade? You can install and configure Janet in the Template Publisher at no additional cost. To learn how to update your template visit this Help Center article. If you'd like our marketing team to complete the work, please contact mark.s@smartetailing.com.
Marketing Updates
Keep your website maintained
Our team of marketing professionals offers a Maintenance package. This service is designed to help you get the most out of your SmartEtailing website. For only $125/month we can take of your ecommerce success setup, catalog maintenance, supplier integration maintenance, POS Sync maintenance, and more!
Content Updates
Free marketing content
New marketing content is always in the works. Recently, we've added the following new content to the marketing Library.
Need help installing new content? Reach out to our Client Success team for assistance.
Brands with recent additions to the catalog
Our team of content experts are constantly adding new catalog items to the SmartEtailing Library. In the last 30 days, we have entered new content from the following brands and more:
100%
49°N
ABUS
All-City
Animal
Answer Products
BMC
BOX
BSD
Batch Bicycles
Bontrager
CULT
CamelBak
Canari
Castelli
Cervelo
Ciari
Clif
Cube Bikes
Dakine
Dalbello
Deity Components
Del Sol
Delta
Donnelly Cycling
ENVE
Eastern Bikes
Eclat
Elite
Fiend BMX
Finish Line
Fox Racing
Fuji
Garmin
Garneau
Gazelle Bikes
Giant
Gocycle
Honey Stinger
Hutchinson
iXS
Jamis
Jandd
Julbo
Juliana

KMC
Kona
Lazer Sport
Lezyne
Line Skis
Liv
Manhattan
Mavic
nuun
Origin8
PNW Components
Park Tool
Pearl Izumi
Pro
Quarq
Raleigh
Redshift Sports
Ritchey
Robert Axle Project
RockShox
SKS
SRAM
Salsa
Salt
Salt Plus
Santa Cruz
Santini
Showers Pass
Specialized
Specialized S-Works
Specialized Turbo
SportRack
Sun Bicycles
Surly
Syntace
Tern
The Shadow Conspiracy
Thule
Topeak
Trek
TruVativ
Velo Orange
Volkl
WeThePeople
Zoic
Stay current with newly available and upcoming brands on the home page Update Center in the Site Manager of your SmartEtailing website.