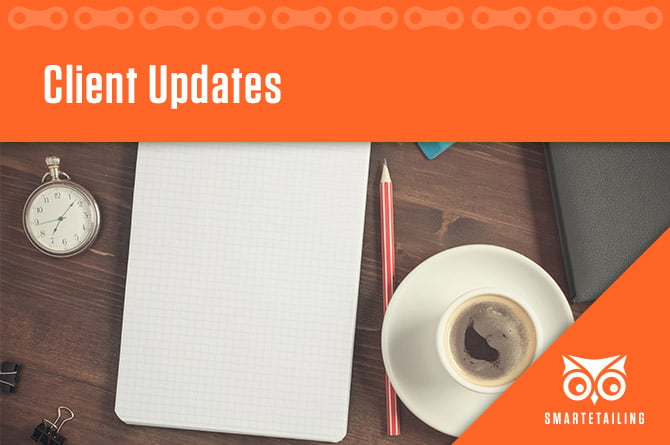 Read the latest updates from all the teams and departments at SmartEtailing. Each month our team is working tirelessly to get your website and tools working as efficiently for you as possible.
Client Services Updates
Multi-Store Feature Enhancements
Extra attention was paid to improving the shopper experience for multi-store retailers. When in-store pickup is selected for a product, a window pops up to show when an item can be picked up at each location. From that window consumers can select a store to pick up the item and the choice follows them to the cart. Retailers can exclude brands for in-store pickup by location to align with dealer agreements. Retailers with multiple locations can set store-to-store transfer times to communicate the date an item will be available for in-store pickup at a shopper's preferred location. Be sure to set your store hours per location inside Display Manager > Store Information.
Reach out to support
if you need any assistance.
Have you moved to responsive template?
Don't wait until the slow season to upgrade. A mobile friendly website can help you grow your business this summer. If you are too busy to do the work yourself, allow our marketing team to do the work for you. We will be sunsetting all the old website templates at the end of 2018. Any template that is not mobile friendly will be unavailable at the end of this year.
Want more information? Click here

to learn more & get started.
Best Practices
Create Separate Users
It is considered best practice to have separate user accounts for anyone that will be working on your SmartEtailing site even for the shop owner or whoever is the Administrator of your website. This makes it easy to deactivate access when you have employment changes. It also helps keep history records accurate which can be helpful when diagnosing any issues that may be occurring on your website.
Mapping Your Items
Make sure your customers are seeing the most accurate inventory online on your site. Follow our
POS Sync

best practices
to be sure that you are taking the right steps to keep this up-to-date.
Product & Development Updates
Gabe Website Template
Gabe represents the current movement toward clean design that focuses on highlighting your brand's identity and key information with minimal distractions. In this blog post, you can learn more about Gabe's features. Explore all of our new responsive template options in the Template Publisher within your Merchant Admin.
Faster Site Search
As a part of our ongoing infrastructure enhancements we recently updated the on-site search functionality on your SmartEtailing website in order to deliver faster and more reliable search results. Shoppers rely heavily on search when browsing an online store. The new faster search on your website will make shopping even easier.
Sunsetting Old Templates
As mentioned above, non-responsive SmartEtailing website templates will be retired at the end of 2018. We need to migrate all existing SmartEtailing websites to one of the new responsive templates by December. All customers have access to the drag-n-drop tools and can do this independently. We do offer some supported options as well, starting at just $500. Also, on August 1, you'll no longer be able to make any changes to your current template, or publish a template that is not one of the new responsive templates. Click here to learn more about responsive & get started.
Content Updates
Brands with Recent Additions to the Catalog
Our team of content experts are constantly adding new catalog items to the SmartEtailing Library. In the last 30 days, we have entered new content from the following brands and more:
Assos

Bontrager

Brooks

Cannondale

Continental




Crank Bothers




GT




Giant




Haibike




Knog




Lezyne

Liv

Niner




ODI




Osmo Nutrition




Pivot Cycles




Quality Wheels




Ryders Eyewear




Shimano




Specialized




Trek




Whisky Parts Co.
Stay current with newly available and upcoming brands on the home page Update Center in the back end of your SmartEtailing website.
Marketing Updates
Custom Website Design
Did you know that many of the nation's top retailers work with the marketing team at SmartEtailing to create a unique website experience? We have a team dedicated to providing full-service custom website design, strategy, and implementation. Ask a member of our marketing or support teams if you'd like to learn more.
Free Marketing Asset Additions
New homepage highlights and landing pages are always in the works. Recently, we've added the following new content to the marketing Library.
Need help installing new content? Reach out to our support team for assistance.