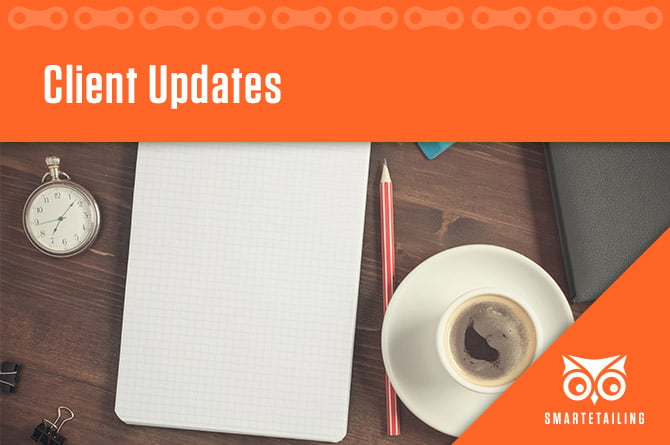 Read the latest updates from all the teams and departments at SmartEtailing. Each month our team is working tirelessly to get your website and tools working as efficiently for you as possible.
Marketing Updates
Free Marketing Asset Additions
New homepage highlights and landing pages are always in the works. Recently, we've added the following new content to the marketing Library.
Need help installing new content? Reach out to our support team for assistance.
Content Updates
Jamis Participating In Supplier Sync
Jamis has recently partnered with SmartEtailing and you are now able to show Jamis product content and warehouse inventory to improve the digital shopping experience of local customers.
Contact our support team if you are interested in getting this configured on your website.
Brands with Recent Additions to the Catalog
Our team of content experts are constantly adding new catalog items to the SmartEtailing Library. In the last 30 days, we have entered new content from the following brands and more:
Pearl Izumi - Fall '18
SRAM
TruVativ
Quarq
Portland Design Works
Panaracer
Kali Protectives
Gore Wear - Spring/Summer

Swiftwick
Stay current with newly available and upcoming brands on the home page Update Center in the back end of your SmartEtailing website.
Client Services Updates
Settings Changes & Feature Retirement
SmartEtailing is making a number of changes to our software to help your bike shop attract more customers and increase your sales. Our support team may be contacting you in the coming months to ask for your assistance with changes or to inform you of features that are being retired.
Switching to SmartEtailing Name Serves
Updating Paypal Payflow Payment Gateway
Responsive Migration
Removing Select Legacy Features on May 15th
Interested in learning more? Read this blog post or contact support with any questions.
Kryptonite Approved Online Seller Program
As of January 1, Kryptonite announced that it will require all of its sellers to become authorized Kryptonite dealers to promote and sell their products. You can find more information on Kryptonite's website via the links below. If you sell Kryptonite solutions online you will need to be an approved online seller by Kryptonite. To apply,
click here
and submit the application to
kryptonite.online.reseller@allegion.com
.
Product & Development Updates
2018 Infrastructure Updates Letter
SmartEtailing is in the process of performing major infrastructure updates and we want you to feel informed about what is happening and what you might experience during the process. Please take 5 minutes to read the letter from the president of SmartEtailing, Ryan Atkinson, which you can find when you login to your website Merchant Admin.
New Responsive Template Available
We are very pleased to announce that a new responsive template, Francis, is now live in the Template Publisher and available to all clients. Francis gives you an additional header option with a dark background, a prominent search bar, and a clean, modern navigator.
Every Client Now Has Responsive Tool Access
All SmartEtailing clients now have access to the responsive website toolset. What does that mean? It means you are one step closer to having a responsive website. We can migrate your website for you or you can choose to do it yourself.
Want more information? Click here

to learn more & get started.