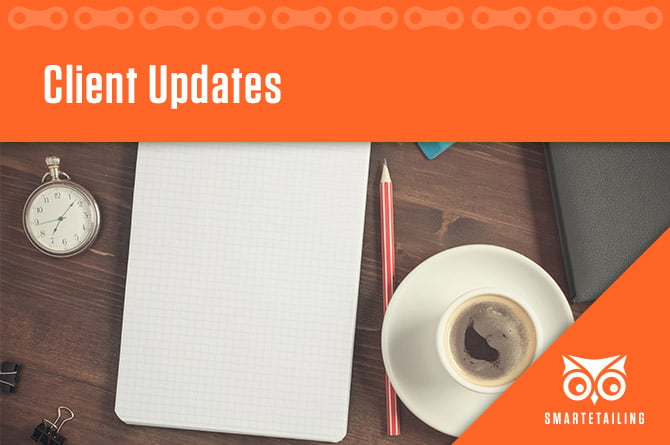 Read the latest updates from all the teams and departments at SmartEtailing. Each month our team is working tirelessly to get your website and tools working as efficiently for you as possible.
Development Updates
On Sale filter added to catalog
Here at SmartEtailing, our number one focus is helping retailers sell more (in-store and online). We are constantly make updates that are driven to help make it easier to shop with your business. It is no secret that customers are online at all hours of the day looking for the best deals. We wanted to help these bargain hunters uncover the biggest savings on your website. We added a long requested feature across all item list pages, On Sale, which will filter and display items that are classified as On Sale or On Closeout. Happy shopping!
Major infrastructure update
This month we successfully upgraded our web hosting to the latest cloud infrastructure. This enhancement will deliver meaningful value to your business. Your website will be even more stable and secure. With redundant servers now available across North America, your customers will have consistently fast performance no matter where they are. SmartEtailing is now on the most advanced web hosting environment available. We continue to prioritize investments to scale our networking, security, and infrastructure that enables us to consistently deliver results for your business.
New look for the Site Manager
If you have recently logged into your SmartEtailing website, you will have noticed that things look a little different. We re-skinned the retailer Site Manager! Some things have moved around; be sure to click through the pop-up prompts for a few quick tips!
Client Services Updates
Website redesign in time for the holidays
Can you believe that we are nearing Q4 of 2019? Time flies when you're selling bikes! We know you are busy and probably starting to prep for the upcoming holiday season. If you've been thinking about giving your website a little TLC or a major update, we can help! We are able to get these changes made to your site and it won't break the bank.
Complete this form
and we will contact you to discuss what your ideal vision is for your website and help make it become a reality.
Content Updates
Snow sports catalog now live
The new snow sports catalog is now showing on retailer websites that have purchased this add-on catalog. It's not too late to update your website to include this for the upcoming winter season. Contact
greg.m@smartetailing.com
with any questions or to get started. If you are interested in learning more about the catalog,
read our recent blog post
.
Brands with recent additions to the catalog
Our team of content experts are constantly adding new catalog items to the SmartEtailing Library. In the last 30 days, we have entered new content from the following brands and more:
All-City
BMC
Bontrager
Cannondale
Cinema BMX
Electra
Garmin
Giant
Juliana
Kink
Liv
Louis Garneau
Maxxis
Mission BMX
Orbea

Park Tool
Problem Solvers
Profile Design
SRAM
Santa Cruz
Saris
Schwalbe
SeaSucker
Specialized
Specialized S-Works
Sugoi
Teravail
Trek
WTB
Stay current with newly available and upcoming brands on the home page Update Center in the Site Manager of your SmartEtailing website.
Marketing Updates
Schedule an appointment to talk about your website
This is the time of year that we would look forward to seeing many of you at Interbike to talk through the details of your website, catalog, shopping cart, marketing, and more! Even though there is no Interbike this year, we wanted to extend the invitation to meet with us. Use this
link to schedule your own 30 minute or 1-hour meeting
with us over the next two weeks. We can't wait to speak with you!
Drive traffic with trackable direct mail
Want to see a lift in your sales numbers or an increase in foot traffic? Consider doing a direct mail campaign with us! Our team of experts can help you craft the perfect message and compelling offer that will help you close out the year strong. Not only does a mailer help drive store traffic, they can also be effective in driving traffic to your website. According to The Agency Ltd., 64% of recipients will visit a website in reaction to direct mail and 54% will engage with a brand on social media after receiving a piece of direct mail.
Click here to learn more!
Free marketing asset additions
New marketing content is always in the works. Recently, we've added the following new content to the marketing Library.
Need help installing new content? Reach out to our support team for assistance.