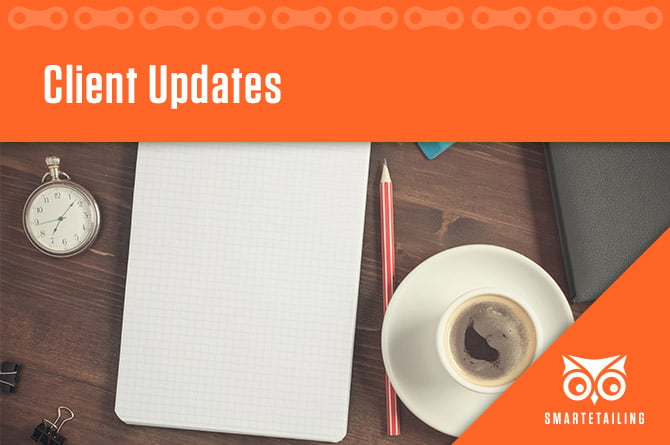 Read the latest updates from all the teams and departments at SmartEtailing. Each month our team is working tirelessly to get your website and tools working as efficiently for you as possible.
Client Services Updates
Interbike is Around the Corner
Are you going to be in Reno this year? We are and we would love to meet with you! Look for our big blue owl flag at Booth #2505 on September 18-20th.
Click here
to set an appointment to meet with us! We have a
special offer for you to migrate your website to a new mobile-friendly template
if you meet with us in person.
Review Your PayPal Settings
PayPal has recently updated their security protocols and there are a few steps you need to take on your SmartEtailing website in order to continue accepting payments through PayPal. If you have an existing PayPal Business account, or once you have created one, you need to connect it to SmartEtailing's PayPal MarketPlace. Please
follow these steps
or
contact support
if you need assistance.
Product & Development Updates
Website Templates Retiring Soon
December 1st
is the day that all SmartEtailing websites
must be migrated to one of our mobile-friendly website templates.
With so many people viewing your website from their phone, it's more important than ever to be on a template that looks great no matter what device your customers use. Many of the updates we've made to the SmartEtailing platform are only available on a responsive template. Don't get left behind!
We offer supported migration options, starting at just $500.
Any template that is not mobile friendly will be unavailable at the end of this year.
Want more information? Click here

to learn more & get started.
Content Updates
Brands with Recent Additions to the Catalog
Our team of content experts are constantly adding new catalog items to the SmartEtailing Library. In the last 30 days, we have entered new content (even some 2019 model year product) from the following brands and more:
100%
All-City
BMC (2019)
Bell
Endura
Faraday
Fitbikeco (2019)
Fizik
Fox Racing
Fuji
Garmin
Giant (2019)
Giro (2019)
Juliana (2019)
Liv (2019)

Monkeylectric
Norco (2019)
Problem Solvers
Radio
Redline
SE Bikes (2019)
Salsa (2019)
Santa Cruz (2019)
Specialized (2019)
Sportful
State Bicycle Co.
Sun Bicycles
Thule
Trek (2019)
Wheels Manufacturing
Stay current with newly available and upcoming brands on the home page Update Center in the back end of your SmartEtailing website.
Marketing Updates
Treat Your Online Store Like Your Physical Stores
In today's retail environment, these choices are just as critical when you're setting up and maintaining your website. A recent report indicates that more than 70% of shoppers engage with multiple channels on the path to purchase. The overwhelming majority of your customers are checking out both your online and your physical store, making your website buildout as important as your brick and mortar buildout. Our recent blog post will cover all the specifics to think about when planning your online store.
Free Marketing Asset Additions
New homepage highlights and landing pages are always in the works. Recently, we've added the following new content to the marketing Library.
Need help installing new content? Reach out to our support team for assistance.