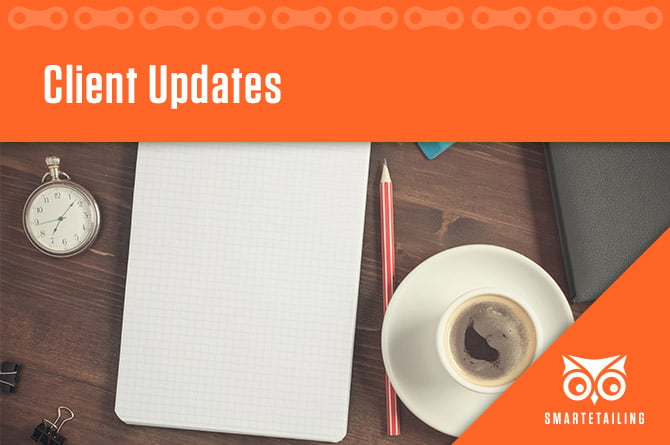 Read the latest updates from all the teams and departments at SmartEtailing. Each month our team is working tirelessly to get your website and tools working as efficiently for you as possible.
Named One of Outside Magazine's Best Places to Work
We are excited to announce that we have once again been named by Outside Magazine as one of the
50 Best Places to Work in 2019
. We owe this honor to our owners, leadership, and employees, but also to our customers! We are very lucky to get to work in such a fun industry and to serve amazing businesses like yours. Thanks for making our workdays not feel like work all the time. And if you are looking for a new career path,
check out our open positions
. We are always looking for awesome people to join our team!
Client Services Updates
Help is on the way!
Need help with your SmartEtailing website? Our new Help Center is live and ready to answer your questions. And if you don't find your answer, you can chat with us (between 8:30 and 4:30 MT) by clicking the messages icon in the lower right corner.
Sell more this holiday season
Is your site ready for the holidays? Close out 2019 with a bang! There are several little things you can do to make a BIG difference. We want to help by making sure that your website is set up for success this holiday season! It can be easy to focus on the foot traffic, but don't forget that 87% of consumers start their product search online. Let us help make sure your shopping cart settings are dialed, you've got a gift card catalog item, your content looks good, and your payment methods are ready! Schedule a time with one of our experts. It's free, easy, idea-generating, and can only help you have a better holiday season!
Playbook for growing sales
Check out our new e-commerce playbook written exclusively for SmartEtailing clients to get the most out of their website. Our goal is to help you sell more in-store and online. Read our guide for practical tips on generating sales from your SmartEtailing website. If you have questions about any of the content or strategies shared here please contact our Client Success team for a personalized consultation.
Hit the 'easy' button
Are you currently at a subscription level where you are manually importing your catalog items? Do you have a compatible point of sale system (Ascend, Lightspeed, Profit Premier and others)? Contact us about subscription options that will help you manage that catalog and save you time, without spending a lot more money. Learn more about our Local website offering and how it can make your life easier!
Marketing Updates
Ideas become online searches
Make it easy for potential customers find your product/website. When consumers search online, Google wants to give them relevant results. Typically, that means they show local retailers in the search results. Personalizing your store location page with local, relevant information is a simple way to begin optimizing. Not sure where to start? We can help! Check out our new SEO package that is available to any SmartEtailing website customer.
Snail mail for the win
Want to see a lift in your sales numbers or an increase in foot traffic? Consider doing a direct mail campaign with us! Our team of experts can help you craft the perfect message and compelling offer that will help you close out the year strong. Not only does a mailer help drive store traffic, they can also be effective in driving traffic to your website.
Click here to learn more!
New website live before the holidays arrive
If you've been thinking that your website could use an update, now is the time! We are able to get changes made to your site and it won't break the bank.
Complete this form
and we will contact you to discuss what your ideal vision is for your website and help make it become a reality before the holiday selling season.
Marketing tips for the holidays
Have you noticed all the Christmas decorations and gift ideas that are infiltrating all retail stores? At your bike shop, are you doing the same? Gathering the things that you think are good stocking stuffers, ordering the kids bikes and the hybrids, putting the products you want them to notice right up front? And are you promoting these same things on your website? Our
holiday playbook
has some great ideas to get you prepared for the holiday shopping season.
Development Updates
Helping local cyclists find products at your store
We've enhanced our Buy Local Now service with a new product discovery platform for consumers, making it easier for cyclists to buy from your local bike shop. Consumers are able to visit
buylocalnow.com
to browse the web's largest selection of name brand cycling products, and when they are ready to buy, they are referred to your website to purchase.
Starting in 2020, SmartEtailing will begin allocating 1% of website subscription revenue to advertising Buy Local Now to consumers. We are making this investment to grow your sales without increasing your costs. Please read our recent
blog post
for a more complete explanation.
Content Updates
Free marketing content
New marketing content is always in the works. Recently, we've added the following new content to the marketing Library.
Need help installing new content? Reach out to our support team for assistance.
Brands with recent additions to the catalog
Our team of content experts are constantly adding new catalog items to the SmartEtailing Library. In the last 30 days, we have entered new content from the following brands and more:
45NRTH
Bellwether
Blackburn
Bontrager
Canari
Cannondale
Electra
Fox Racing
Giant
Haro
Juliana
Kuat
Lazer Sport
Liv
Machines for Freedom
Maxxis
Mission BMX
Momentum

Nantucket Bike Basket Co.
Origin8
Park Tool
Pearl Izumi
Pro
Problem Solvers
Roval
Salsa
Santa Cruz
Shebeest
Shimano
Specialized
Specialized S-Works
Specialized Turbo
Surly
Trek
Whisky Parts Co.
Stay current with newly available and upcoming brands on the home page Update Center in the Site Manager of your SmartEtailing website.