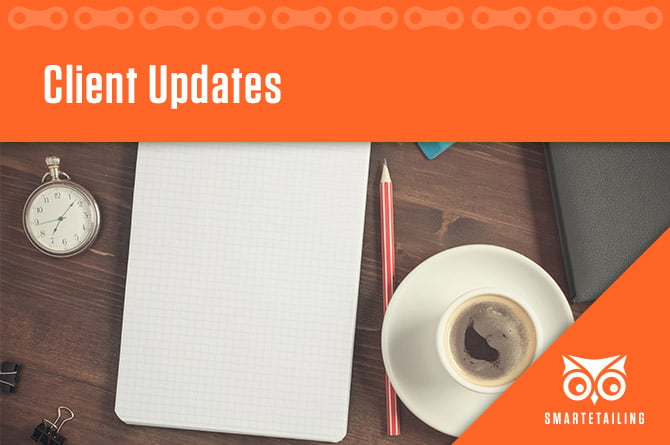 Read the latest updates from all the teams and departments at SmartEtailing. Each month our team is working tirelessly to get your website and tools working as efficiently for you as possible.
Online shopping by the numbers
Over the past 2 months, ecommerce has been on the rise. Sales on the SmartEtailing platform continues to grow for each bike shop that has their shopping cart turned on. In April, the average SmartEtailing client's online sales were up YOY by almost 1,000%. Of these orders, 68.4% were for in-store pickup and 5% were for home delivery. Participate in this growth by turning on your shopping cart!
Let your customers know when their order is ready
Customers are anxious to get the product they ordered from you. Use our new Order Update Emails feature to let them know exactly when it's okay to come get the order. Within any order, click the Record Store Fulfillment button and select the date and time the order will be ready for pickup, then check the box to email the customer with that information. Read More
Snow sports catalog
Your SmartEtailing website is capable of showing your snow sports inventory! Allowing your customers to see the variety of products on your website is more important than ever. Let's work together to make sure you can show all the products and brands you'll have in your store. Complete this form and get started today.
We are here to help
Have questions about your website? Contact us via chat, phone or email and we will assist you as soon as possible. The Client Success team has been working hard to help retailers manage their sites for online selling, page updates, and more during this busy time. Due to increased volume we can't always get right back to you within an hour, so thanks for your patience as we all enjoy the resurgence of interest in cycling!
Development Updates
Cart abandonment emails
Shopping cart abandonment emails are the newest feature enhancement we have released. If a customer places products in their cart and starts but does not complete checkout they'll receive an automated follow up email from your shop encouraging them to complete their transaction. The emails are triggered after a customer has gotten to the last stage in the checkout but hasn't completed their order. If their cart sits unmodified for an hour, we will send a reminder email to the billing email the customer entered. This requires no action on your part, it's set to go automatically.
Marketing Updates
Free Google product listings
Google will now display products in the Google Shopping tab for free. This feature will help you connect with even more customers when they are searching for and are ready to buy the products you sell. Take advantage of this opportunity to sell more online. Set up your Google Merchant Center account now and connect it to your SmartEtailing website right away. We can help! For $110, we'll configure your Google Merchant Center account and schedule your Google product file to automatically upload for you. Get started or learn how to setup on your own.
Homepage refresh
Help your customers find the products and services that they want and convert sales online with a refreshed homepage. Just like on your sales floor, it's important to present seasonally appropriate, easy to shop content on your website. Let us help you create a welcoming, effective entrance to your digital storefront. Set up a meeting to learn more and get started!
Content Updates
Free marketing content
New marketing content is always in the works. Recently, we've added the following new content to the marketing Library.
Need help installing new content? Reach out to our support team for assistance.
Brands with recent additions to the catalog
Our team of content experts are constantly adding new catalog items to the SmartEtailing Library. In the last 30 days, we have entered new content from the following brands and more:
ABUS
Bar Mitts
Bell
Black Inc
Bontrager
Burley
Cannondale
CatEye
Club Ride
Continental
Endura
Evo
Fizik
Flat Attack
Fox Racing
G-Form
Garneau
Giant
Giro
IZIP
Jamis
Kinetic
Kink
Leatt
Liv
MICHELIN
Machines for Freedom

Marin
Maxxis
Microshift
Norco
Orange Seal
QuietKat
Race Face
Raleigh
Redline
Rock-N-Roll
RockShox
Salsa
Schwalbe
Scott
Shimano
Slime
Specialized
Sportful
Sun Bicycles
Swagman
Tacx
Teravail
Trek
Troy Lee Designs
Whisky Parts Co.
Yeti Cycles
Zipp
Stay current with newly available and upcoming brands on the home page Update Center in the Site Manager of your SmartEtailing website.