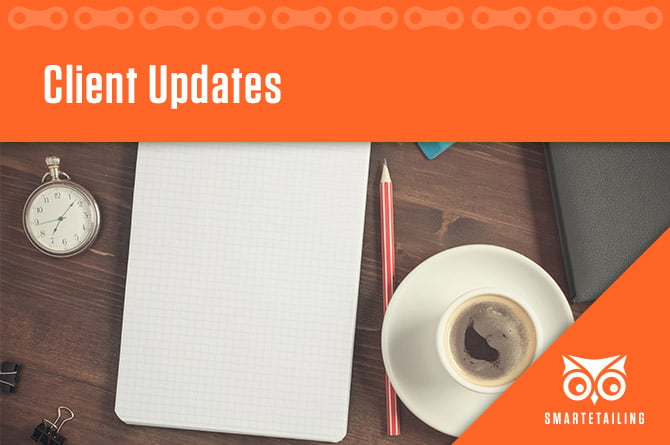 Read the latest updates from all the teams and departments at SmartEtailing. Each month our team is working tirelessly to get your website and tools working as efficiently for you as possible.
Client Services Updates
New video about Click + Collect for bike shops
Our Click + Collect video shows how a local bike shop can implement buy online, pickup in-store. SmartEtailing has all the technology and infrastructure to assist you in making shopping with you seamless.
Watch our video
with your staff and contact us to get started today!
Is your website ready for summer?
Take a few minutes to review your Supplier Settings. Check to make sure you are displaying all that you can over the summer, when your site has the potential for the most site traffic. Also review your supplier ship time settings which helps your customers know when they could expect an item to arrive, one of the best ways to close the sale online.
Don't be afraid of selling online
Does it sound like too much hassle, or are you worried about fraud? Whatever your reason, there are more reasons than not to start selling online. You can start with pickup in-store only. Click + collect, also called buy online, pickup in-store, is rapidly becoming the preferred shopping method for many consumers. Using a payment gateway and your best judgement will keep fraud to a minimum. We have new offerings to help protect you!
Removing model year from catalog items
On April 24th, SmartEtailing removed model year from the display of all catalog items on your website. Removing model years allows brands and retailers to better plan availability and control inventory. It helps retailers maximize margins because there is less pressure to discount aging product. Traditionally in the bike industry, when model years changed, retailers experience a reduction in inventory value and incur significant margin risk. Read the
full update here
.
Content Updates
HLC catalog
Our team was able to enter (nearly) everything that HLC distributes, for both Canadian, and US markets. These items will automatically start showing on your website if you have POS Sync properly configured.
Grow your catalog
Do you have a limited catalog with us, with a small number of items you can display? Ask us about our newest package, and you may be surprised at how affordable it is to show the products in your POS System on your website.
Brands with recent additions to the catalog
Our team of content experts are constantly adding new catalog items to the SmartEtailing Library. In the last 30 days, we have entered new content from the following brands and more:
Avid
Bintelli Bicycles
Bontrager
Brooklyn Bicycle Co.
Civia
Cleary
Devinci
ENVE
Eclypse
Electra
Evo
ISM
Julbo
MICHELIN
Norco
Opus
Ortlieb
Osprey
Park Tool
Po Campo
Problem Solvers
Quarq

Renthal
RockShox
SKS
Shimano
Sombrio
Spank
Specialized
Specialized S-Works
Specialized Turbo
SportRack
Squirt
Swiftwick
SwissStop
Teravail
The Wheel Shop
Trek
TruVativ
Tuesday
WD-40 Bike
Weehoo
Yuba
Stay current with newly available and upcoming brands on the home page Update Center in the back end of your SmartEtailing website.
Marketing Updates
Free marketing asset additions
New marketing content is always in the works. Recently, we've added the following new content to the marketing Library.
Need help installing new content? Reach out to our support team for assistance.