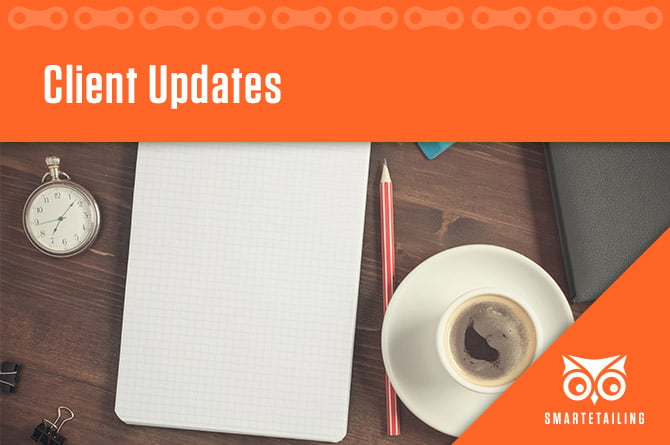 Read the latest updates from all the teams and departments at SmartEtailing. Each month our team is working tirelessly to get your website and tools working as efficiently for you as possible.
Marketing Updates
Free Marketing Asset Additions
New homepage highlights and landing pages are always in the works. Recently, we've added the following new content to the marketing Library.
Need help installing new content? Reach out to our support team for assistance.
Content Updates
Jamis Participating in Supplier Sync
Jamis has recently partnered with SmartEtailing and you are now able to show Jamis product content and warehouse inventory to improve the digital shopping experience of local customers. Read our recent blog post to learn more.
Contact our support team if you are interested in getting this configured on your website.
Recent Product Launches
The SmartEtailing Content Team is always busy getting new products entered in a timely fashion especially around product launches. Here is a recent list of product launches that our content team made possible.
Specialized Stumpjumpers
Trek Full Stache
Surly Bridge Club
Bontrager Aeolus XXX wheels
All-City Topo Designs handlebar bag
Brands with Recent Additions to the Catalog
Our team of content experts are constantly adding new catalog items to the SmartEtailing Library. In the last 30 days, we have entered new content from the following brands and more:
Maxxis
Cane Creek
Serfas
WeThePeople
Rocky Mountain
Kuat
Gore Wear
Sugoi
TerraTrike
Ritchey
MICHELIN
Vittoria
RockShox

Schwalbe
Race Face
Planet Bike
Stan's NoTubes
Teravail
Yeti Cycles
Profile Design
Pedro's
KMC
FSA
SKS
Hayes
Speedplay
Stay current with newly available and upcoming brands on the home page Update Center in the back end of your SmartEtailing website.
Client Services Updates
Legacy Feature Retirement on May 15th
SmartEtailing is making a number of changes to our software to help your bike shop attract more customers and increase your sales. Here is a list of the legacy features that will be retired later this month.
BikeSpeak Forum
Classifieds
Cycling Links
Cycling Tips & Highlights
Frequently Asked Questions
Glossary of Cycling Terms & Highlights
Legacy Email Sign-Up
Legacy Templates & Template Publisher
Interested in learning more? Read this blog post or contact support with any questions.
Maintenance Window on Tuesday Evenings
We have completed the first of several major infrastructure upgrades planned for 2018, and many large and small upgrades on the horizon. Sometimes these upgrades require us to take elements of our hardware or applications offline for a period of time. In order to minimize the impacts to your business and to make this as predictable as possible, we have reserved the time slot 10PM to 1AM MT each Tuesday night to perform maintenance and make upgrades. This means that your websites front or back end might not be accessible during maintenance windows.
There will be times when your website is not accessible for an hour, times when our maintenance will be completed with a 10 minute interruption to a single part of the application and other times when there is no interruption at all. We will provide details each week on the login screen of the admin back end for your SmartEtailing website.
Product & Development Updates
Google Analytics Change
On May 25th, Google is changing the retention controls related to user-level and event-level data (e.g., User-ID, DoubleClick cookies, Android's Advertising ID, Apple's Identifier for Advertisers). The
Google Analytics Data Retention controls
give you the ability to set the amount of time before user-level and event-level data stored by Google Analytics is automatically deleted from Analytics' servers. Any users wanting to retain data beyond the normal controls will need to look into transitioning into a paid solution with Google.
General Data Privacy Regulation (GDPR)
Have you been hearing about the General Data Privacy Regulation and wondering how it affects your business? We found
this article
helpful because it explains what it means for U.S. marketers and businesses. The change comes into effect on May 25, 2018. Specifically, this regulation deals with how organizations obtain, store, manage, and/or process the personal data of citizens of the European Union (EU). Not something to brush off and comes with some pretty hefty penalties if you are caught not complying.
New Responsive Template Available
We are very pleased to announce that a new responsive template, Francis, is now live in the Template Publisher and available to all clients. Francis gives you an additional header option with a dark background, a prominent search bar, and a clean, modern navigator.
Want more information? Click here

to learn more & get started.