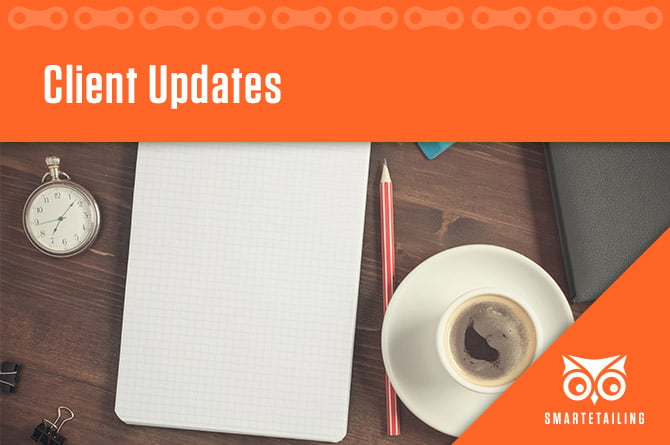 Read the latest updates from all the teams and departments at SmartEtailing. Each month our team is working tirelessly to get your website and tools working as efficiently for you as possible.
Client Success Updates
BETA Lighspeed integration now available
Connect your Lightspeed Point of Sale to SmartEtailing using our new, stable integration. Our new integration allows for enhanced customer service and payroll efficiencies with streamlined online order processing. Send complete orders from your website to Lightspeed for easy inventory management.
For hosted website users it will bring your inventory data from Lightspeed into your website in a new way that will require re-mapping of your online catalog items.
Follow our instructions to get started on the new integration today!
Ebike categorization
SmartEtailing's Content Team recently finished a collaborative project with the Marketing and Client Success teams to more effectively categorize your ebikes. The ebike products in SmartEtailing's catalog occupy a new dedicated branch in the Cycling catalog that sits on the same level as Bikes. This makes ebike products easily findable in the megamenu as a distinct category of product. Ebikes also retain their existing cross-categorizations with non-ebike.
The structure for the Electric branch is as follows:
Cycling
>Electric
>Bikes
>Road
>Mountain
>City & Recreation
>Cruisers
>Trikes
>Scooters
>Skateboards
>Mobility
Along with the new Electric category, you will notice the original electric sub-category still appears in your catalog. Before we remove the original, please take a moment to update any links on your homepage or internal pages to the old sub-category.
Marketing Updates
Provide your customers with online bike buying resources
With our online bike buying guide, your customer can not only find the perfect bike more easily but also the accompanying cycling gear to ensure every ride is great.
Each package is $400 and comes with a landing page, homepage graphic, plus content for social media and email marketing. This content can be customized to reflect the brands that you carry. Ready to get started? Email lauren.w@smartetailing.com to get rolling.
Content Updates
Free marketing content
New marketing content is always in the works. Recently, we've added the following new content to the marketing Library.
Need help installing new content? Reach out to our Client Success team for assistance.
NEW ADA-compliant geometry chart and sizing chart tool
In our continued dedication to ADA compliance, SmartEtailing's Content Team developed a new tool to create ADA-compliant geometry and sizing charts for catalog items. The geometry and sizing features created by this tool are machine readable and meet the requirements of ADA legislation, as well as being significantly more attractive and readable than previous geometry charts.
You can see the old and new versions of the geometry and sizing charts by visiting this preview page and clicking on the features in the right hand column.
Ecommerce catalog data analysis & business intelligence
SmartEtailing's Content Team is using a suite of business intelligence tools to drive decisions surrounding the prioritization of catalog projects and how best to support essential brands and categories. This data is derived from consumer behavior across SmartEtailing sites and identifies the most commonly viewed and shopped for products in the Cycling and Snow Sports catalogs. This is an evolutionary step for the Content Team, allowing them to understand consumer needs and react accordingly as they create SmartEtailing's catalog content.
Stay current with newly available and upcoming brands on the home page Update Center in the Site Manager of your SmartEtailing website.