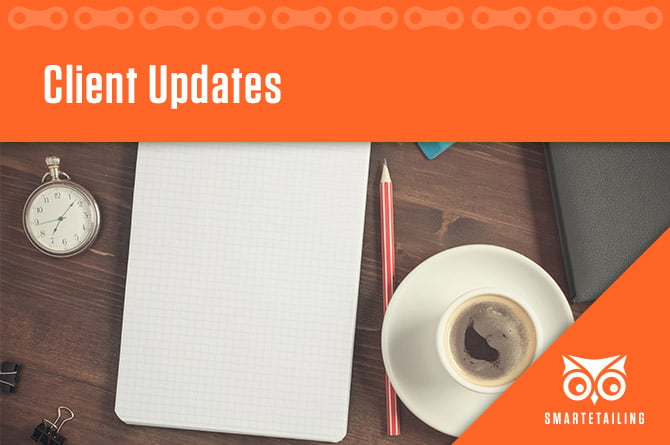 Read the latest updates from all the teams and departments at SmartEtailing. Each month our team is working tirelessly to get your website and tools working as efficiently for you as possible.
Client Services Updates
Click + Collect and your bike shop
Click + collect is a purchasing option that is changing the way consumers shop with retailers. This allows the consumer to buy online for in-store pickup. It gives the customer the convenience to shop how they want, instant gratification to get the product the same day, and cost savings by eliminating the shipping charges. As the retailer, it gives you increased sales by adding a cash register online, face to face interaction with your website customers, and a competitive advantage over shops not able to offer this feature. Ready to get started? Follow the steps on our
how to setup click + collect guide
or
contact the support team
for help.
Get your website ready for spring
As your thoughts turn to warmer weather, so do your customers'. As they dream of riding again, be sure your website is ready. Have you merchandized your website the way you have merchandized your store? Your website is an extension of your business and needs to be updated regularly as well. Here are some ideas for prepping your website for Spring: showcase offers for Spring tune-ups, new bikes from different categories or brands, nutrition/ hydration, or upcoming demos, clinics, and rides. Not sure what to do?
Contact the support team
for a few suggestions for updating your home page. Did you know that we have a service the updates your website for you? Learn more about
our marketing packages
.
Content Updates
Brands with recent additions to the catalog
Our team of content experts are constantly adding new catalog items to the SmartEtailing Library. In the last 30 days, we have entered new content from the following brands and more:
110%
All-City
Bianchi
Bontrager
Burley
Cervelo
Challenge Tires
Civia
CST
Donnelly Cycling
Evo
Giant
Goodyear Bike
Hollywood Racks
Louis Garneau
Machines for Freedom
Mavic
MICHELIN

Norco
Park Tool
Pirelli Velo
Planet Bike
Salsa
Schwalbe
SeaSucker
Shimano
Slime
Specialized
Specialized S-Works
SRAM
Stages Cycling
Surly
Trek
Vee Rubber
Wheels Manufacturing Inc.
Whisky Parts Co.
Stay current with newly available and upcoming brands on the home page Update Center in the back end of your SmartEtailing website.
Marketing Updates
Free marketing asset additions
New marketing content is always in the works. Recently, we've added the following new content to the marketing Library.
Need help installing new content? Reach out to our support team for assistance.
Promote Click + Collect on your website
The marketing team at SmartEtailing has been busy prepping graphics that you can use on your website to promote click + collect shopping. Have you been to other major retailer websites recently? They are shouting from the rooftops that you can buy online and pickup in-store. We have free graphics available and more in-depth package that is available for purchase. Review your options here.