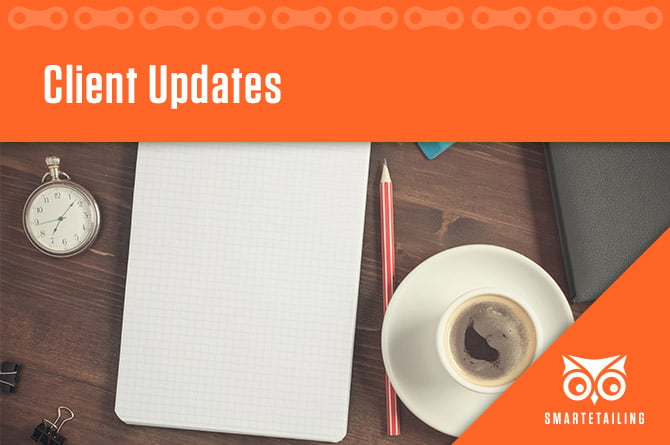 Read the latest updates from all the teams and departments at SmartEtailing. Each month our team is working tirelessly to get your website and tools working as efficiently for you as possible.
Client Services Updates
Best Practices | Updating your website this summer
As summer gets into full swing, your website is probably seeing an increase in traffic. Does your home page easily direct them to what they came to find? Are you setup for Click + Collect? Keeping your home page and catalog updated are two key ways to make sure you are doing your best to make the sale, whether that closes online or in store. Ask us to review your site to make sure you have everything dialed in to make the most of summer or scroll down to learn about the Busy Season Special for new marketing clients.
ORM-D products
From e-bikes to tail lights any item with batteries are likely ORM-D and require special handling when you ship them to a customer. Ground shipping is now enabled for all products in the SmartEtailing library currently marked ORM-D. This means that the responsibility for safely shipping ORM-D items lies with you. It can mean an increase in sales on products that were previously not marked as shippable. Let us know if you have questions about shipping ORM-D products.
Payment gateway updates
To protect the privacy of your customers we are implementing new security standards for the SmartEtailing platform. Many of these changes are happening behind the scenes, but we need your help with one very important step. If your website does not currently have a secure online payment gateway, we need you to please configure a secure payment gateway before July 15, 2019. After this date your website will no longer store customer credit card information for offline payment. If you are a retailer effected by this update, we have sent you an email and will continue to contact you until the proper changes have been made.
Content Updates
Brands with recent additions to the catalog
Our team of content experts are constantly adding new catalog items to the SmartEtailing Library. In the last 30 days, we have entered new content from the following brands and more:
All-City
Cannondale
Chamois Butt'r
Delta
ENVE
Fox Racing
Giant
Haibike
iSSi
Juliana
KMC
Kryptonite
Leatt
Liv
Lizard Skins
Park Tool
Pinarello
Problem Solvers
Raleigh

Raleigh Electric
Reid
SQlab
SRAM
Salsa
Santa Cruz
Saris
Shimano
Sigma Sport
Specialized
Specialized S-Works
Specialized Turbo
Surly
TerraTrike
Thule
Topeak
Trek
Wald
Stay current with newly available and upcoming brands on the home page Update Center in the back end of your SmartEtailing website.
Marketing Updates
Busy Season Special
4 months of website marketing for only $99/mo (regularly $125/mo).
You take care of the store, we'll take care of the website. We know that the busy season in your store can get crazy! There is so much you need to focus on to keep your store looking good and ready for customers to shop with you. Don't forget, your website needs that level of attention too. Allow SmartEtailing to maintain your website for June - September. This includes — homepage merchandising, maintaining current design standards, homepage SEO, navigation maintenance, POS Sync maintenance, Supplier Sync maintenance, catalog maintenance, and much more! Please note that this offer is for new marketing clients only.
Click here to get started.
All-In-One Summer Sale package
Go beyond standard website content with our Summer Sale advanced content marketing package. We design exclusive marketing materials that are offered only to our existing marketing clients. These graphics are a step ahead of what is offered in the free content library and can be tailored for your store's specific sale. It is a complete package that not only provides digital graphics for your website, but for Google and social media too! Are you a current Fundamental or Growth marketing client? Click here to get started.
Direct mail for summer selling season
Selling season is here and direct mail is a great way to really jump start things at the bike shop. Show up in your customer's mailbox and we don't mean just their e-mail inbox. SmartEtailing's full service marketing agency is ready to partner with you on a direct mail campaign. After a slow winter it is time to really get things moving and start driving traffic to your store. Click here to get started.
Free marketing asset additions
New marketing content is always in the works. Recently, we've added the following new content to the marketing Library.
Need help installing new content? Reach out to our support team for assistance.