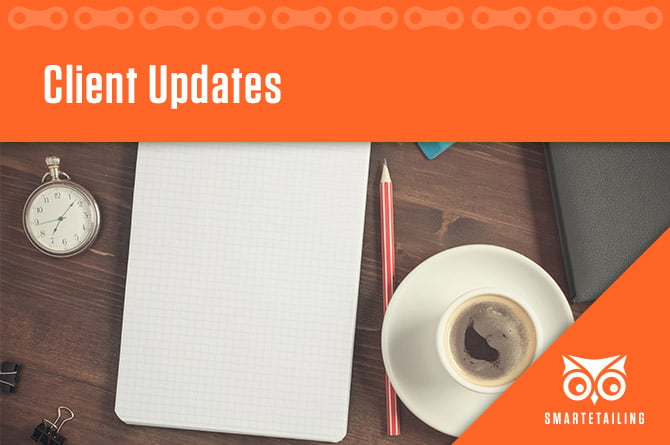 Read the latest updates from all the teams and departments at SmartEtailing. Each month our team is working tirelessly to get your website and tools working as efficiently for you as possible.
Product & Development Updates
New Features to Improve Online Shopping
We've recently released a series of new features to give your customers a better understanding of when they can pick-up purchases they've made on your website.
These enhancements make your website function much like REI, Home Depot, and Target, aligning your site's shopping experience with modern consumer expectations. In turn, your website can generate more local online sales thanks to an improved in-store pickup experience. Read more in this blog post.
Content Updates
Kryptonite Authorized Dealer Program
As of January 1, Kryptonite announced that it will require all of its sellers to become authorized Kryptonite dealers to promote and sell their products. You can find more information on Kryptonite's website via the links below. If you sell Kryptonite solutions online you will need to be an approved online seller by Kryptonite. To apply, click here and submit the application to kryptonite.online.reseller@allegion.com.
SRAM Participating in MAP Protection
SRAM & their family of brands (Avid, Quark, Rockshox, SRAM, Truvativ, Zipp) are all officially participating in our MAP Protection program. SmartEtailing's free MAP (Minimum Advertised Price) Protection Service helps brands and retailers work together more efficiently to reduce operational costs, accidental pricing policy violations, and protect brand value.
Felt Part Number Update
With the recent purchase of Felt by Rossignol, their part numbers have changed. To make sure your Felt items map to our Catalog Library, confirm that your items have a UPC or the newest MPN. Need help? Reach out to our support team for assistance.
Brands with Recent Additions to the Catalog
Our team of content experts are constantly adding new catalog items to the SmartEtailing Library. In the last 30 days, we have entered new content from the following brands and more:
Santa Cruz
Pivot Cycles
Haibike
Diamondback
Wheels Manufacturing Inc.
Assos
Kink
Time
State Bicycle Co.
Brooklyn Bicycle Co.

Endura
Stay current with newly available and upcoming brands on the home page Update Center in the back end of your SmartEtailing website.
Client Services Updates
Summer Direct Mail Available
The summer selling season is upon us! Looking to drive traffic to your store? Direct mail campaigns are great for nurturing new interest, landing additional customers, and developing relationships with existing customers.
Contact us today
about preparing a piece of direct mail for your market. We have several themes to choose from including non-sale themes.
Responsive Migrations
The client services team is busy helping retailers migrate their existing sites onto the responsive website platform. Don't wait until the slow season to upgrade. A mobile friendly website can help you grow your business this summer. If you are too busy to do the work yourself, allow our marketing team to do the work for you. We will be sunsetting all the old website templates at the end of 2018. Any template that is not mobile friendly will be unavailable at the end of this year.
Want more information? Click here

to learn more & get started.
Marketing Updates
Free Marketing Asset Additions
New homepage highlights and landing pages are always in the works. Recently, we've added the following new content to the marketing Library.
Need help installing new content? Reach out to our support team for assistance.