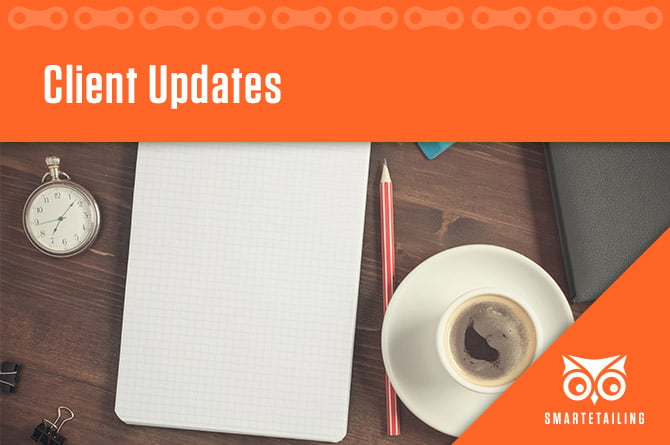 Read the latest updates from all the teams and departments at SmartEtailing. Each month our team is working tirelessly to get your website and tools working as efficiently for you as possible.
Client Services Updates
Do you sell bikes? Skis? Snowboards?
Would you like to show your snow sports products on your SmartEtailing website? We are excited to announce the expansion of our online catalog to include snow sports for the 2019-2020 season. This add-on catalog is available to any SmartEtailing client who would like to showcase their snow sports inventory on their website.
Click here to learn more
Payment gateway updates
To protect the privacy of your customers we are implementing new security standards for the SmartEtailing platform. Many of these changes are happening behind the scenes, but we need your help with one very important step. If your website does not currently have a secure online payment gateway, we need you to please configure a secure payment gateway before July 15, 2019. After this date your website will no longer store customer credit card information for offline payment. If you are a retailer effected by this update, we have sent you an email and will continue to contact you until the proper changes have been made.
Content Updates
Brands with recent additions to the catalog
Our team of content experts are constantly adding new catalog items to the SmartEtailing Library. In the last 30 days, we have entered new content from the following brands and more:
Assos
Axiom
Bontrager
Brooks
Cannondale
Continental
Crank Brothers
ENVE
Garmin
Gazelle Bikes
Giant
Juliana
Knog
Leatt
Liv
Machines for Freedom
Maxxis
Miles Wide
Park Tool

Pinarello
Pivot Cycles
Pro
Problem Solvers
Profile Design
Raleigh Electric
Santini
Serfas
Shimano
Specialized
Specialized S-Works
Specialized Turbo
Thule
Tifosi
Time
Tomac
Trek
WTB
Stay current with newly available and upcoming brands on the home page Update Center in the Site Manager of your SmartEtailing website.
Marketing Updates
Busy Season Special
4 months of website marketing for only $99/mo (regularly $125/mo).
You take care of the store, we'll take care of the website. We know that the busy season in your store can get crazy! There is so much you need to focus on to keep your store looking good and ready for customers to shop with you. Don't forget, your website needs that level of attention too. This includes — homepage merchandising, maintaining current design standards, homepage SEO, navigation maintenance, POS Sync maintenance, Supplier Sync maintenance, catalog maintenance, and much more! Please note that this offer is for new marketing clients only.
Click here to get started
Free marketing asset additions
New marketing content is always in the works. Recently, we've added the following new content to the marketing Library.
Need help installing new content? Reach out to our support team for assistance.