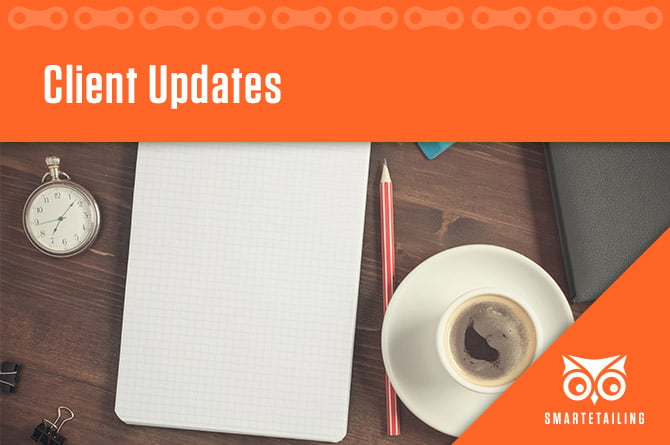 Read the latest updates from all the teams and departments at SmartEtailing. Each month our team is working tirelessly to get your website and tools working as efficiently for you as possible.
Understanding ADA
Reviewing your website to see whether or not your sites meets the American with Disabilities Act (ADA) standards is very important. A few simple changes can make a big difference. Recently we wrote a blog post to help you understand and learn the things you can do to help make your website pages more in line with the ADA requirements. Read this blog post to learn more.
2020 website planning
Do you have a new year's resolution to improve your website? Have things slowed down in the shop after the holidays? It's a perfect time to review and update your website and think about your marketing plan for 2020.

In northern states, business may really have slowed down. Your online catalog is always important, but don't ignore all the other parts of your business. Focus your homepage on things consumers need now. Service, bike fit, clinics and classes, reserving a bike rental for summer vacation. All ways to get people shopping with you now, online and in-store. We've got library pages ready for you to import and personalize on all these topics.
Development Updates
Pickup in-store email notifications
Last month we released a new feature that will send email notifications to your customers when a click + collect order is ready for pickup. We are taking many steps to make shopping with your bike shop seamless. This will help lessen the burden of shop employees and give customers the information they are looking for in a timely manner.
Marketing Updates
2020 Marketing Packages
Need help keeping your website up-to-date or want to take it to the next level? We offer two different package options. First, we have our Maintenance package which is exactly what it sounds like. We'll configure your Site Manager settings to meet ecommerce best practices, we'll ensure that your product and business information are up to date, and we'll update your homepage hero seasonally. Second, we have our Marketing package which will supercharge your website. We'll make it easy for your customers to find you online and to say 'yes' to doing business with you. Objectives could include driving online traffic, increasing online sales, and many more. Learn more here.
ADA audit for all content in library of Site Manager
We want to make it as easy as possible for you to comply with the ADA requirements. In December we performed an audit of all the free marketing landing pages found in your Site Manager's Page Library. We looked at things such as color contrast, alt text on images and header tags to bring it more in line with the ADA standards. Check out the newest versions now!
Content Updates
Free marketing content
New marketing content is always in the works. Recently, we've added the following new content to the marketing Library.
Need help installing new content? Reach out to our support team for assistance.
Brands with recent additions to the catalog
Our team of content experts are constantly adding new catalog items to the SmartEtailing Library. In the last 30 days, we have entered new content from the following brands and more:
45NRTH
All-City
Bontrager
Bryton
Castelli
Continental
Del Sol
Dimension
Factor Bikes
Felt Bicycles
Fox Racing Shox
GT
Giant
Giro
IZIP
Incredibell
Jagwire
Kenda
Kona
Liv
MICHELIN
Machines for Freedom
Marin
Maxxis
Origin8
Panaracer
Park Tool
Planet Bike

Premium Products
Radio
Raleigh
Raleigh Electric
Redline
Ritchey
Rocky Mountain
Salsa
Schwalbe
Serfas
Shimano
Sidi
Smith Optics
Specialized
Specialized S-Works
State Bicycle Co.
Tacx
Tern
Time
Trek
Vittoria
WTB
WeThePeople
Whisky Parts Co.
Wolf Tooth Components
Yakima
Yamaha
Stay current with newly available and upcoming brands on the home page Update Center in the Site Manager of your SmartEtailing website.