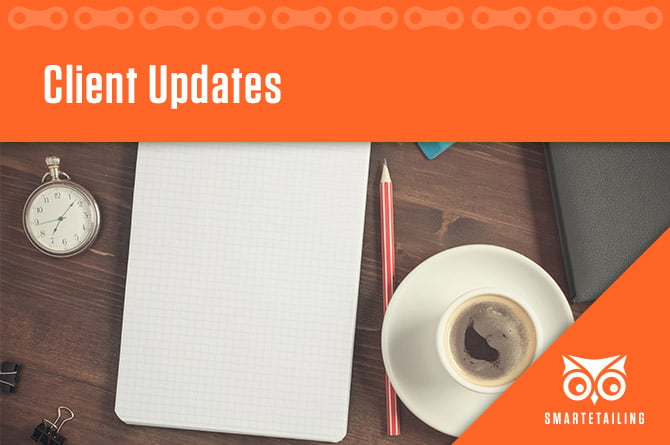 Read the latest updates from all the teams and departments at SmartEtailing. Each month our team is working tirelessly to get your website and tools working as efficiently for you as possible.
Client Services Updates
Drag and Drop Tools
It is official, all SmartEtailing websites are now mobile friendly. This means everyone has access to the drag and drop editing tools. This makes building and editing pages easy for everyone, no matter their skill level. If you haven't had a chance to login and use the tools yet, feel free to give it a try. Here is a
link to our resource guide
that helps explain some of the functionality.
Custom website design is available
SmartEtailing offers custom website design. You are able to utilize our team for one-time or ongoing web design projects. If you are interested in giving your website a face lift, would like help building a specific page, or want to redesign your homepage —
fill out this form
and we will start by having a consultation phone call to understand your goals and desires. Then you will be provided an estimate where you can either accept or decline the project from moving forward. We want to be the best partner possible to keep your website looking great!
We want your feedback
Please take a moment to
complete our client feedback survey
for a chance to win a $100 Visa gift card. We take feedback from our clients very seriously and want to hear from you! It is only 12 questions and should take 5 minutes or less. We will notify the winner on February 28th.
Integration Partners
Did you know that SmartEtailing can support and integrate with many different providers? We build and maintain the functionality for you to embed services that allow you to do things like bicycle rentals, service scheduling, and more. Take a look at some of the
current integrations
we offer. Don't see something you are looking for? Ask our
client services
team and we can let you know if it is something we can support.
Content Updates
Brands with recent additions to the catalog
Our team of content experts are constantly adding new catalog items to the SmartEtailing Library. In the last 30 days, we have entered new content from the following brands and more:
45NRTH
All-City
Bianchi
Bontrager
Brompton
Burley
Dimension
Feedback Sports
Fox Racing
Giant
iSSi
KHS
Liv
Louis Garneau
Michelin
MSW
Niner
Norco

Park Tool
Pinarello
Ritchey
Salsa
Save Our Soles
Schwalbe
Specialized
Specialized Turbo
SRAM
Surly
TerraTrike
Thule
T Mat Pro
Trek
Whisky Parts Co.
Yahama Electric
Yeti Cycles
Stay current with newly available and upcoming brands on the home page Update Center in the back end of your SmartEtailing website.
Marketing Updates
Free marketing asset additions
New marketing content is always in the works. Recently, we've added the following new content to the marketing Library.
Need help installing new content? Reach out to our support team for assistance.
Monthly marketing packages
We know that you are constantly juggling priorities at the shop. It is important to keep your website updated and relevant. We can help! We have a team of over 20 marketing professionals and we have several marketing packages to choose from. For as little as $125/month we can add huge value to your digital presence. Check out our marketing packages and contact us if you are interested in getting started.