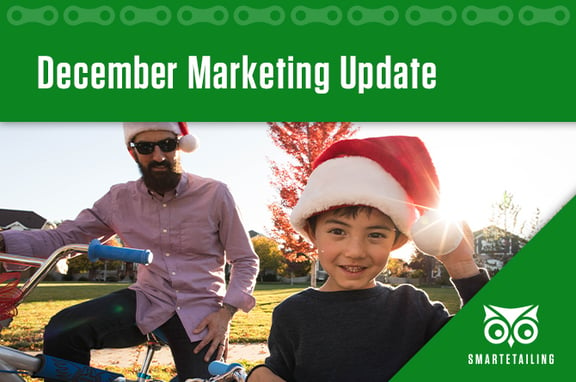 The holidays are here! If you haven't already, now is the time to add shoppable holiday content to your homepage to help your website visitors find the perfect gear for themselves and their family and friends. Feature safe and convenient services such as curbside pickup, and suggest bikes and accessories for gift ideas large and small with a variety of free content.

Don't see marketing materials for the product categories that you want to promote? Want something customized to fit your landscape? Reach out to our support team or your marketing account representative today - we would love to help you get what you need to increase sales online and in-store.
---
Holiday Gift Guide

Offer your top picks for holiday gifts suitable for cyclists of all ages and abilities with this seasonally appropriate content. Add a little joy to your homepage and update the product carousels on the landing page to meet your current inventory needs.
Can be found in the Page Library under Holidays > Holiday Gift Guide 2020
---
Find Your Mountain

We've created new snow sport content for multisport retailers to support your transition into winter. Shift from merchandising cycling content to ski and snowboard content on your homepage while the snow is falling with this cold weather highlight and landing page.
Can be found in the Page Library under Snow Sport Content > Find Your Mountain
---
Convenient Curbside Pickup

Encourage your customers to shop online and opt for contactless curbside pickup this holiday season with this festive and shoppable landing page. You can customize the catalog content to feature categories or specific products that you currently have in-stock.
Can be found in the Page Library under Holidays > Convenient Curbside Pickup
---
Request a Bike

Bike inventory is sparse these days. Help your customers get on your waitlist or find an alternative solution with this simple but effective "Request a Bike" form page. Capture key customer information and follow up with helpful bike selection advice.


Can be found in the Page Library under Services > Request a Bike
---
Install Tips
Responsive home page highlights can now be found at the bottom of each corresponding landing page in the SmartEtailing Page Library.
Step One: Find Your Content
To access the new responsive highlights, go to Content Manager > Page Editor and click the "Page Library" tab.
Step Two: Import Your Page
Choose your new responsive page and import it into your library by clicking the yellow icon in the Action column. You will be prompted to select a folder for the new page and given the option to set the imported page to active.
Step Three: Add the Highlight to Your Home Page
Click the "Your Pages" tab and locate your new page. Select the Edit icon to open the page, then scroll to the bottom to find the responsive highlight content as well as detailed instructions for installation.