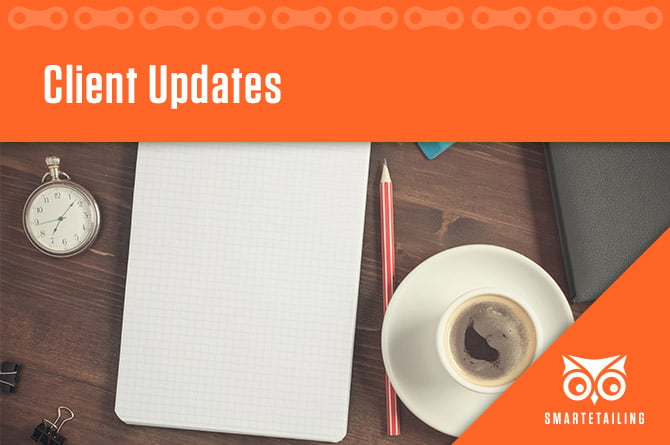 Read the latest updates from all the teams and departments at SmartEtailing. Each month our team is working tirelessly to get your website and tools working as efficiently for you as possible.
Development Updates
Auto-suggestion search
When a consumer uses the search tool on your site they will now get potential results as they type. This is predictive search and it should make it easier to get to what they hoped to find. At any point they can click to get to a list of search results. A "No results found" page appears when a site search returns no items from our search engine. It displays a user friendly message, a list of recently viewed items and 'featured items'. Try it out on your own site - type anything to see how products show up.
Learn more here!
Shopping links added to page not found
If your site contains a link to a page that is no longer active, or a customer clicks a link in an old email that no longer exists, they will now get a better result. Instead of a simple "Page Not Found" message, your customers will see a friendlier message, and a list of items they might like instead.
Prioritized brand list sorting
We want to help you sell the brands and products you support so we've updated how brands display on catalog list view pages. When a consumer visits a catalog page they will see a list of six brands in the filters section on the left, sorted by the quantity of products that you have available. Expanding to view the full list leaves the original list of most popular brands at the top of the list, while the remaining brands are displayed in alphabetical order.
Read the full update here.
Improved order confirmation emails
Are you selling online? Then you've probably already seen the new order confirmation emails. You and your customers now get an email with a picture of the ordered item, a link to the item in your catalog, and an all-around modern look to the email. Stay tuned for even more updates for order management over the coming months! Read
this blog post
for a full update!
Client Services Updates
Best practices & settings for online selling
Are you ready to sell online? Let us help get your site set up properly for accepting payments, shipping items, and processing orders from start to finish. Help people spend more money at your store!
As new products come in the back door, you want them to roll right out the front door! Make sure your online catalog is showing those products as soon as possible. Let us review your catalog and confirm your POS Sync settings are helping you sell more online and in-store. Contact support if you'd like us to review your settings and reach out to you with the ways to fix it. If you'd like us to take care of ongoing website maintenance for you - our marketing team is available to help for a small fee- one time or every month.
Content Updates
Snow Sports Catalog for 2019-2020 season
We love bikes! But we know that we can't ride them year round in many places. It turns out we have something exciting to announce for all of our cold climate clients - we now have a snow sports catalog! It's an add-on catalog available to any SmartEtailing client who that wants a pre-built catalog to showcase their snow sports inventory on their website.
Click here to learn more!
Brands with recent additions to the catalog
Our team of content experts are constantly adding new catalog items to the SmartEtailing Library. In the last 30 days, we have entered new content from the following brands and more:
All-City
Assos
BMC
BiKASE
Bontrager
Burley
Cannondale
Castelli
Continental
Electra
Gazelle Bikes
Giant
Kink
Liv
Louis Garneau
Maxxis
Niner

Park Tool
Pivot Cycles
Problem Solvers
Profile Design
Salsa
Santini
Shimano
Specialized
Specialized S-Works
Specialized Turbo
Sugoi
Tifosi
Tomac
Trek
WTB
Wahoo
Whisky Parts Co.
Stay current with newly available and upcoming brands on the home page Update Center in the Site Manager of your SmartEtailing website.
Marketing Updates
Keep the momentum
4 months of website marketing for only $99/mo (regularly $125/mo).
Let us help you carry the momentum of summer selling season into the fall . There is so much you need to focus on to keep your store looking good and ready for customers to shop with you. Don't forget, your website needs that level of attention too. This includes — homepage merchandising, maintaining current design standards, homepage SEO, navigation maintenance, POS Sync maintenance, Supplier Sync maintenance, catalog maintenance, and much more!
Click here to learn more
Free marketing asset additions
New marketing content is always in the works. Recently, we've added the following new content to the marketing Library.
Need help installing new content? Reach out to our support team for assistance.