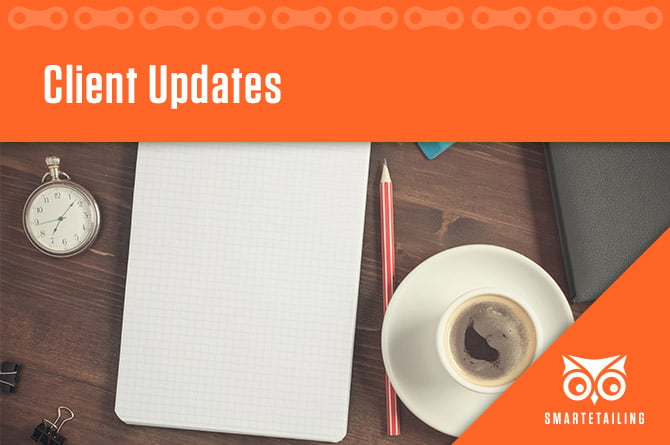 Read the latest updates from all the teams and departments at SmartEtailing. Each month our team is working tirelessly to get your website and tools working as efficiently for you as possible.
Client Services Updates
Meet with Us at Interbike
Are you going to be in Reno this year? We are and we would love to meet with you! Look for our big blue owl flag at Booth #2505 on September 18-20th.
Click here
to set an appointment to meet with us!
Best Practices
Curate your brands
Online shoppers have come to expect the "endless aisle" - websites that show everything imaginable that a store can get. Make sure your site shows the products you have in stock as well as those you can get from your brands and suppliers. Each listing in Supplier Sync allows you to select the brands or categories that you don't want to display. Don't want to show fat bikes, or ONLY want to show them? Exclude the appropriate brand and/or categories to get a better representation of what you sell.
Website traffic
Have you setup Google Analytics for your site? It's free and easy to do. See what pages and catalog items people are looking at. Plus, with the geographic info you can see how close they are to your store! Need help?
Visit our User Guide or contact the support team for assistance.
Product & Development Updates
Time is Running Out - Template Change Required
With so many people viewing your website from their phone, it's more important than ever to be on a template that looks great no matter what device your customers use. Many of the updates we've made to the SmartEtailing platform are only available on a responsive template. Don't get left behind!
We offer supported migration options, starting at just $500.
We will be sunsetting all the old website templates at the end of 2018. Any template that is not mobile friendly will be unavailable at the end of this year.
Want more information? Click here

to learn more & get started.
What the www?
As part of our ongoing infrastructure standardization, we have designated the primary domain for all SmartEtailing websites to contain www. With this change, it is important to resubmit your site to Google and confirm that you are consistently using the www. in all places where your site is referenced (Facebook, Google My Business, etc.). This will help search engine robots understand that it's your preferred domain. Need help or have questions? Please contact our support team for assistance.
Content Updates
Brands with Recent Additions to the Catalog
Our team of content experts are constantly adding new catalog items to the SmartEtailing Library. In the last 30 days, we have entered new content (even some 2019 model year product) from the following brands and more:
Trek (2019)
Bontrager (2019)
Sportful (2019)
Lezyne (2019)
Giant & Liv (2019)
Cannondale (2019)
Giro (2019)
Crank Brothers
TerraTrike
Felt Bicycles
Pearl Izumi
GT
SockGuy
Niner

Quality Wheels
Brooks
Fox Racing Shox
Garmin
3T
PowerTap
Surly
Raleigh Electric
IZIP
Terry
Cloud-9
Ritchey
DeFeet
Stay current with newly available and upcoming brands on the home page Update Center in the back end of your SmartEtailing website.
Marketing Updates
Custom Design Projects
Did you know that you can request to work with our marketing team on any custom project? We can help with a multitude of projects including but not limited to: landing page design, homepage page redesign, email graphics, social media graphics, and sale theme development. We have a team dedicated to providing full-service custom design, strategy, and implementation. Ask a member of our marketing or support teams if you'd like to learn more.
Free Marketing Asset Additions
New homepage highlights and landing pages are always in the works. Recently, we've added the following new content to the marketing Library.
Need help installing new content? Reach out to our support team for assistance.