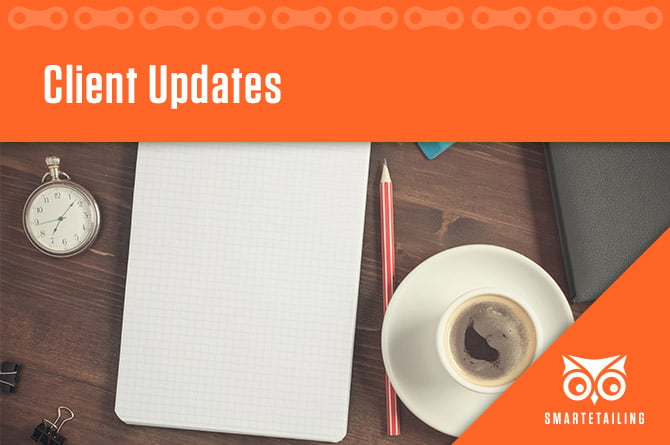 Read the latest updates from all the teams and departments at SmartEtailing. Each month our team is working tirelessly to get your website and tools working as efficiently for you as possible.
Client Services Updates
New podcast about e-commerce for bike shops
Check out the latest episode of The Channel Mastery Podcast to hear a conversation between SmartEtailing President + Co-Owner, Ryan Atkinson and show host Kristin Carpenter about why local bikeshops should diversify into the realm of online selling to staying connected with local cyclists. They talk candidly about important strategic concepts and simple next steps for independent bicycle dealers.
Listen to the podcast now
.
Understanding your DNS records
Ever wondered how the Internet knows which website to display when you type yourbikeshop.com into a browser or click on a link in a list of search results? There are lots of levers being pulled behind the scenes of the internet. Read our
DNS blog post
to help you understand the basics.
How does your website rank?
Want to know how you website is doing? The vast majority of your potential customers are visiting you online before they decide to visit (or not to visit) your brick and mortar location. Are you making a positive first impression? Are you helping shoppers find what they need and want? Are you presenting the same welcoming, professional environment online that your customers experience in store? Using our scorecard, you can answer these questions and identify opportunities for improvement on your website and in your supporting digital marketing efforts. D
ownload your free website scorecard now
.
Click + Collect and your bike shop
Click + collect is a purchasing option that is changing the way consumers shop with retailers. This allows the consumer to buy online for in-store pickup. It gives the customer the convenience to shop how they want, instant gratification to get the product the same day, and cost savings by eliminating the shipping charges. As the retailer, it gives you increased sales by adding a cash register online, face to face interaction with your website customers, and a competitive advantage over shops not able to offer this feature. Ready to get started? Follow the steps on our
how to setup click + collect guide
or
contact the support team
for help.
Content Updates
Brands with recent additions to the catalog
Our team of content experts are constantly adding new catalog items to the SmartEtailing Library. In the last 30 days, we have entered new content from the following brands and more:
Basil
Bianchi
Bern
Bontrager
Electra
Evo
evoc
Fox Racing
Gore Wear
GUP Industries
iXS
IZIP
Lazer Sport
Light & Motion
Look
Louis Garneau
Muc-Off
Norco
Park Tool
Pedro's
Po Campo

QM Sports Care
Santa Cruz
SeaSucker
Skratch Labs
Sombrio
Slime
Spank
Specialized
Specialized Turbo
Specialized S-Works
SRAM
Sugoi
Sun Bicycles
Teravail
TerraTrike
Tomac
Trek
Whisky Parts Co.
Yeti Cycles
Yuba
Zipp
Stay current with newly available and upcoming brands on the home page Update Center in the back end of your SmartEtailing website.
Marketing Updates
Free marketing asset additions
New marketing content is always in the works. Recently, we've added the following new content to the marketing Library.
Need help installing new content? Reach out to our support team for assistance.
Promote Click + Collect on your website
Don't forget to promote the power of your website. We have free graphics available to promote click + collect shopping directly on your website. We also have a more in-depth package that is available for purchase. Review your options here.