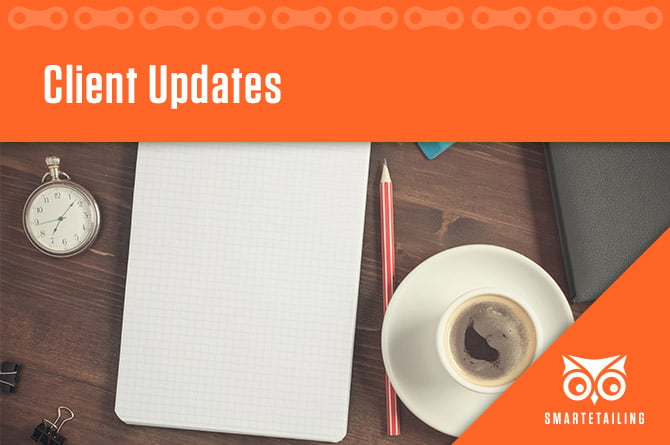 Read the latest updates from all the teams and departments at SmartEtailing. Each month our team is working tirelessly to get your website and tools working as efficiently for you as possible.
OUTSIDE's Best Places to Work of 2018
SmartEtailing is honored to be named among the
50 Best Places to Work
by OUTSIDE. "Companies from across the country entered a rigorous two-part survey process to make the winning list," said Abigail Wise, online managing editor, OUTSIDE. The winning companies are those that value productivity in combination with an active, eco-conscious lifestyle, for a fulfilling experience inside and outside the office. We are happy to celebrate this honor with our passionate and creative team. Want to join our team?
See job openings here
.
Client Services Updates
New Video | SmartEtailing websites help close sales
Watch our
most recent video
where President+Co-owner, Ryan Atkinson, talks about online shopping and how your SmartEtailing website is equipped to help you close sales.
Get your website ready for holiday shoppers
Is your shopping cart on? If not, consider turning it on for pick-up in store only, to make it easier for online shoppers to include your store on their shopping list. Read more about Click and Collect in our
recent blog post
. Be sure to review your Policies and Shipping page, and make sure it lines up with your settings in Commerce manager > Shipping Methods.
Have you seen all the new pages we've been creating for your responsive template? Be sure to check the Page Library to see the great looking pages we've been working on to help show off your site 's products and services. We've got mobile-friendly layouts and updated graphics to help you look good and sell more.
Sales Tax Settings
Best Practices
Gift cards in your catalog
Make sure your catalog has everything they want! Add a gift card to your online catalog. We have a few different versions, import one from our library and edit to include your store's gift card image. Be sure to add a Balance on Hand (BOH) quantity so they display as in stock!
Review your website traffic
This is the time of year to review your traffic to see what your shoppers were most interested in over the summer. Check your built-in traffic analytics, under Report Manager > Traffic or go to your Google Analytics. Where are your site visitors located? What pages were most popular? What words were used in a Site Search? Use the data to help you determine what to promote more. Anything missing near the top that you expected to be there? Let's work on your site to make sure you're dialed in! Contact
support@smartetailing.com
for help, or
consider our marketing services
to get help.
Curate your brands
SmartEtailing currently partners with 25 US and 8 Canadian suppliers and brands, allowing their products to display on your website if they are in the supplier warehouse. Review and update your settings under Supplier/Brand Manager > Supplier Sync to make sure you are showing customers the most possible items you can get for them.
Product & Development Updates
Website Templates Retiring December 1st
All SmartEtailing websites
must be migrated to one of our mobile-friendly website templates by December 1st.
With so many people viewing your website from their phone, it's more important than ever to be on a template that looks great no matter what device your customers use. Many of the updates we've made to the SmartEtailing platform are only available on a responsive template. Don't get left behind!
We offer supported migration options, starting at just $500.
Any template that is not mobile friendly will be unavailable at the end of this year.
Click here
to learn more & get started.
Content Updates
California's Proposition 65
As of August 30, California's Proposition 65 ("Prop 65") regulations have changed, which means we now need to warn the end consumer about cancer and birth defects in every product in the online catalog. The SmartEtailing Content Team is adding a "Feature" to all product detail pages that fall under Prop 65, as seen in this awning. We are working to obtain this data from every brand we interact with, but we know some products may slip through the cracks, which is where we're relying on your help. Please fill out the form on this page to alert the Content Team to products in the SmartEtailing catalog that don't currently comply.
Brands with recent additions to the catalog
Our team of content experts are constantly adding new catalog items to the SmartEtailing Library. In the last 30 days, we have entered new content from the following brands and more:
Blackburn
Chris King
Continental
Endura
Finish Line
Fizik
Fuji
Haro
Jamis
KASK

KOO
Kuat
Origin8
Ortlieb
Premium Products
Reid
Scott
Tacx
Tubus
Wolf Tooth Components
Stay current with newly available and upcoming brands on the home page Update Center in the back end of your SmartEtailing website.
Marketing Updates
Web design for your bike shop
In today's modern shopping era your website is considered the face of your business. It is the first thing that many customers see. Does it reflect your business? Are you putting your best foot forward? We have a team of marketing professionals that can help redesign your homepage or do a full website overhaul. See the links below for some of our recent work. Complete this form if you are interested in custom design work for your website.
Free marketing asset additions
New homepage highlights and landing pages are always in the works. Recently, we've added the following new content to the marketing Library.
Need help installing new content? Reach out to our support team for assistance.